Happy Monday Coven!! How are you?
We are super excited to share our review of Atima Kim's book "Spark to Shadow" and 5 reasons why you should read it! Click here for the full schedule!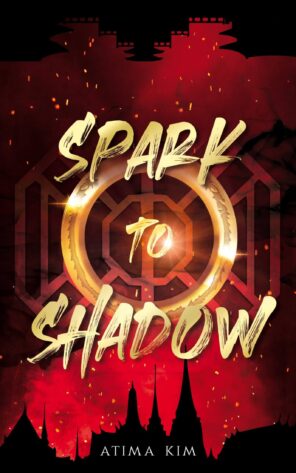 Spark to Shadow
by
Atima Kim
Published on
2021-02
by
Atima Kim
Format:
ARC
,
eBook
provided by
TBR&Beyond
Pages:
470
Purchase Links*:




Genres:
Fantasy
,
General
,
Romance
,
Young Adult Fiction

Witch. Warrior. Dragon Rider.
Long ago, the covens of the east made a pact to bring peace to the continent. To unite the clans and create a new era of witches, starting with the next generation of matrons. Fang is the first witch of her generation to reach her debut, as the next matron of her coven she has the unique honor of being the first one to fulfill the pact. For the first time in centuries, a Miangese witch will take a foreign consort. Luckily, Fang already has someone in mind. Taken in by the Sun coven in the mountain kingdom of Anda, Fang is more than happy to entertain the alluring young lords of the ruby clan as they compete to win her affections, not knowing her choice has already been made. Or so she thought. Until a chance encounter brings to light the existence of something Fang previously thought to be quite rare, a male witch. The meeting of this young shadow witch- a boy who Fang now owes a debt- starts a chain of events that will make Fang question everything she thought she knew about her Andan allies. In an effort to help him escape his oppressors, Fang and the shadow witch discover a dark presence that is slowly poisoning the innocent citizens of mortal Anda, and a dangerous weapon that could threaten the very peace of the pact that Fang is bound to uphold. As she, her friends, and her new shadow witch companion work to fight against these looming forces, Fang's feelings towards her own choices slowly start to shift. She must decide what is more important to her, who she wants by her side, and most of all- what she's willing to give up in order to be the leader her people need.
This book was received for free from TBR&Beyond in exchange for an honest review. This does not affect our opinion of the book or the content of this review.We'd like to thank the publishers and TBR&Beyond for the review copy.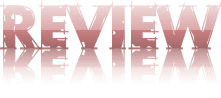 "A witch was her own best weapon".
Meet Fang, a beautiful witch that is sent to the kingdom of Anda with one purpose: to find a suitable consort, or wether, a male witch with no magic; or another fancy word for a squib. Have you read the Selection? If you enjoy books with that Bachelor vibe, then you will definitely find something to enjoy in "Spark to Shadow".

The Andan Kingdom is for Fang very different from her own country, with constricting laws and witches that care only about their own. The Sun Coven that hosts her has their own agenda though; Fang already knows the clan leader's son, who expects her to choose him in the end. Their "plan" is thrown off course however when Fang meets Sanha, a shadow witch (Darkling vibes anyone??). Male witches are very rare and a union between two witches would make their offspring pretty powerful. I must confess that the plot came off predictable. Nonetheless, it totally kept my interest!
If you are looking for a solid fantasy read you can't go wrong with Spark to Shadow!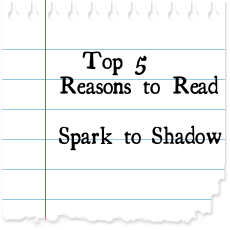 You can't resist a witchy tale.
(We can't either).
You prefer standalones.
(Who can blame you really?? I have the memory of a goldfish and I cannot keep up with my sequels).
Shadow powers (+fireeee).
(I just can't get enough of any Darkling like character).
and dragons….. (enough said).
Matriarchy.
(The women call the shots on this one and we approve).
Banter and romance.
(Look we know we said five reason but you can never go wrong with these).
At a Glance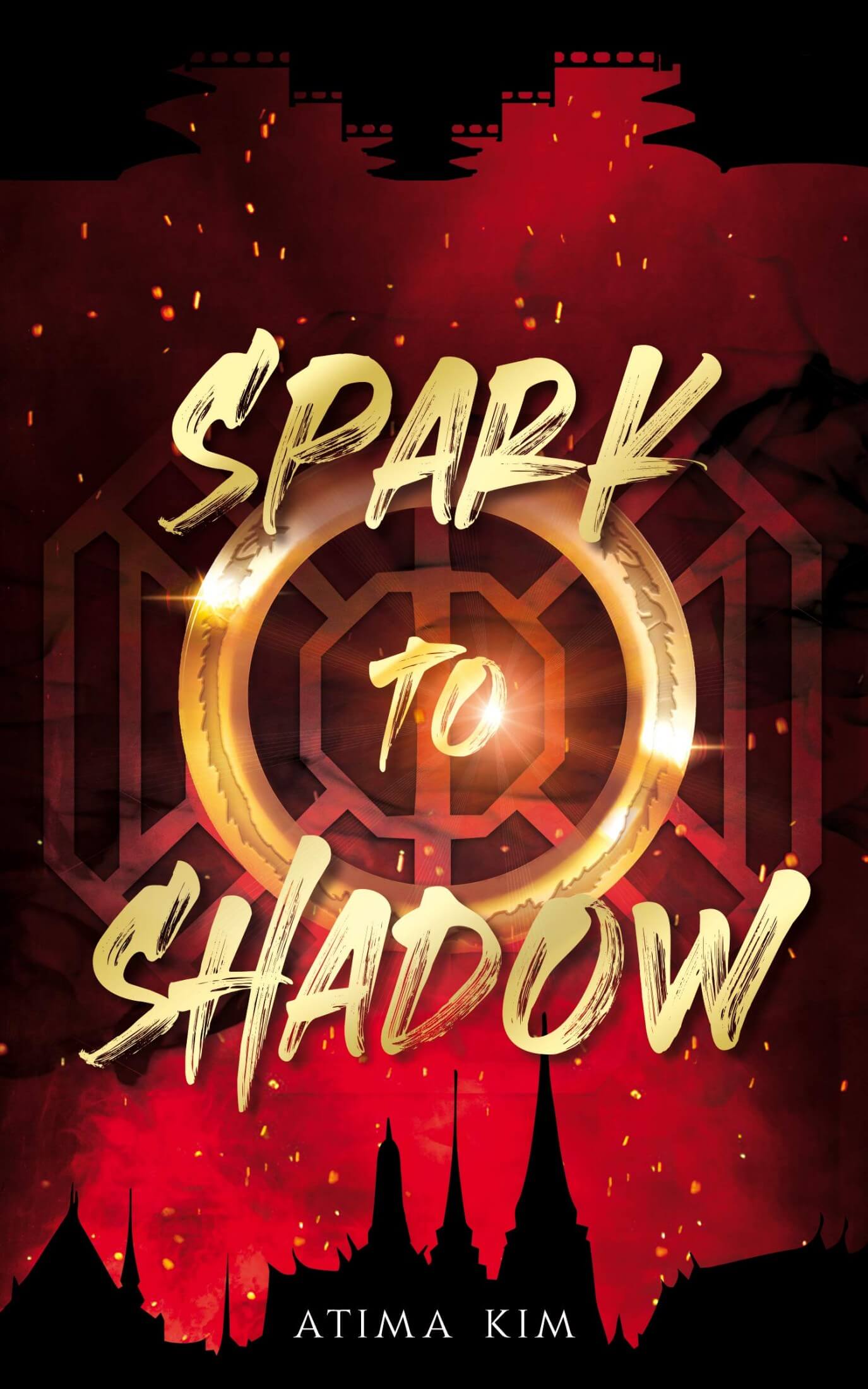 Overall
Don't let the plain cover fool you, Spark to Shadow was a lovely read!!
May 31st
Shelf Love – Interview
Stuck in Fiction – Promo Post
Gwendalyn's Books – Review
The Bookish Coven – Review & Top 5 Reasons to Read Spark to Shadow
June 1st
B for Bookslut – Review & Favourite Quotes
HerBookishObsession – Review & Mood Board
Read 'n' Dazzled -Review & Favourite Quotes
June 2nd
What Polly Reads – Review & Book Look
The Reader's Game – Review, Favourite Quotes & Mood Board
I dream in Books – Review & Favourite Quotes
PopTheButterfly Reads – Review
June 3rd
Nine Bookish Lives – Interview
Pages & Plots – Promo Post
Musing of Souls – Review & Favourite Quotes
June 4th
Wishing Upon a Star – Review, Playlist & Favourite Quotes
A Discourse of Books – Mood Board & Journal Spread
The Book Dutchesses – Review
Lore and Lullabies – Review & Favourite Quotes
June 5th
Windows to Worlds – Reivew & Book Look
The Writer's Alley – Review, Playlist & Favourite Quotes
Vivaciously Vintage – Review & Favourite Quotes
June 6th
And On She Reads – Interview
2 Rs blog – Review
The Bookworm's Express – Review & Favourite Quotes
Rajiv's Reviews – Review
May 31st
tbrandbeyond – Promo Post
shelflove123 – Blogger's Choice
gwendalyn_books_ – Blogger's Choice
the_bookish_coven – Blogger's Choice
June 1st
jypsylynn – Review
herbookish_obsession – Blogger's Choice
read.n.dazzled – Blogger's Choice
June 2nd
hturningpages – Review & Top 5 Reasons to Read Spark to Shadow
whatpollyreads – Blogger's Choice
idreaminbooks – Blogger's Choice
popthebutterfly – Blogger's Choice
June 3rd
johsjournal – Journal Spread
ninebookishlives – Blogger's Choice
chaicocoffeeandchimings – Blogger's Choice
June 4th
fangirlpixiebooks – Promo Post
adiscourseofbooks – Blogger's Choice
thebookdutchesses – Blogger's Choice
lore_lullabies – Blogger's Choice
June 5th
readbyalice – Blogger's Choice
jrundy85 – Blogger's Choice
offictionandfantasy – Blogger's Choice
June 6th
dhirviepages – Review & Faovurite Quotes
andonshereads – Blogger's Choice
aamna_thebibliophile – Blogger's Choice
rajivsreviews – Blogger's Choice