Hello everyone! Today our blog is the stop for Tori Bovalino's Not Good For Maidens. Be sure to add this to your TBRs – we know we will!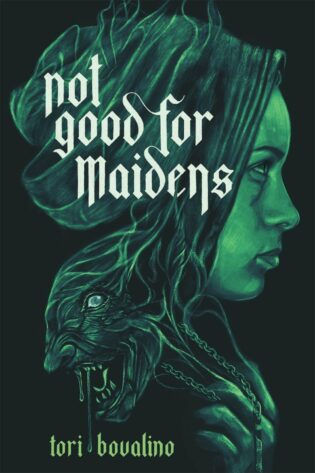 Not Good for Maidens
by
Tori Bovalino
Published on
June 14, 2022
by
Page Street Publishing
Pages:
352
Purchase Links*:






Genres:
Young Adult Fiction / Fantasy / Contemporary
,
Young Adult Fiction / Fantasy / Dark Fantasy
,
Young Adult Fiction / Horror

They'll lure you in with fruit and gems and liquor and dancing, merriment to remember for the rest of your life. But that's an illusion. The market is death itself.

Beneath the streets of York, the goblin market calls to the Wickett women—the family of witches that tends to its victims. For generations, they have defended the old cobblestone streets with their magic. Knowing the dangers, they never entered the market—until May Wickett fell for a goblin girl, accepted her invitation, and became inextricably tied to the world her family tried to protect her from. The market learned her name, and even when she and her sister left York for Boston to escape it, the goblins remembered.
Seventeen years later, Lou, May's niece, knows nothing of her magical lineage or the twisted streets, sweet fruits, and incredible jewels of the goblin market. But just like her aunt, the market calls to her, an echo of a curse that won't release its hold on her family. And when her youngest aunt, Neela, is kidnapped by goblins, Lou discovers just how real and dangerous the market is.
To save her, both May and Lou will have to confront their family's past and what happened all those years ago. But everything—from the food and wares, to the goblins themselves—is a haunting temptation for any human who manages to find their way in. And if Lou isn't careful, she could end up losing herself to the market, too.
Content Warnings: On-page gore, on-page body horror, violence, trauma
June 13th
Kait Plus Books – Interview
Nine Bookish Lives – Promotional Post
Brinn's Books – Review, Favorite Quotes
Becky's Book Blog – Review
June 14th
The Cozy Archives – Review & Favorite Quotes
Confessions of a YA Reader – Promotional Post
Althea Is Reading – Review
Clouded Galaxy Reads – Review
June 15th
Book Notes by Athina – Promotional Post
Ink Slinger – 15 Reactions While Reading Not Good for Maidens
Beneath A Thousand Skies – Review
Metaphors and Miscellanea – Review & Favorite Quotes
June 16th
Quills and Stardust – Interview
Inking & Thinking – Review & Playlist
Stuck in the Stacks – Review
Modest Hiccup – Top 5 Reasons to Read Not Good for Maidens & Mood Board
June 17th
Phannie the ginger bookworm – 15 Reactions While Reading Not Good for Maidens
The Book Dutchesses – Promotional Post
Justice For Readers – Top 5 Reasons to Read Not Good for Maidens
Gwendalyn's Books – Review
June 18th
stories with saima – Review
Lu is lost in books – Review
The Bookish Coven – Promotional Post
The Nerdy Nook – Review & Favorite Quotes
June 19th
A Court of Coffee and Books – Interview
Stuck in Fiction – Promotional Post
Unabridged Adventures – Review & Favorite Quotes
Literary Liza – Review & Favorite Quotes
June 13th
kerasalwaysreading – Review
tbrandbeyond – Promotional Post
ninebookishlives – Blogger's Choice
brinnsbooks – Blogger's Choice
June 14th
the.mixed.pages – Review & Favorite Quotes
folowing.fantasies – Top 5 Reasons to Read Not Good for Maidens
the.cozy.archives – Blogger's Choice
cloudedgalaxyreads – Blogger's Choice
June 15th
booknotes_athina – Blogger's Choice
aamnaiswriting_ – Blogger's Choice
metaphorsandmisc – Blogger's Choice
June 16th
onemused – Review
stuck.in.the.stacks – Blogger's Choice
modesthiccup – Blogger's Choice
June 17th
pcreads – Review & Favorite Quotes
justiceforreaders – Blogger's Choice
gwendalyn_reads – Blogger's Choice
June 18th
writingrosereads – Promotional Post
bookish.by.trade – Top 5 Reasons to Read Not Good for Maidens
luislostinbooks – Blogger's Choice
thenerdynoon – Blogger's Choice
June 19th
acourtofcoffeeandbooksblog – Blogger's Choice
feliciareads11 – Blogger's Choice
unabridged_adventures – Blogger's Choice
literarylize – Blogger's Choice