Hello everyone! We are so excited to do a promo post for "Outside Nowhere" by Adam Borba.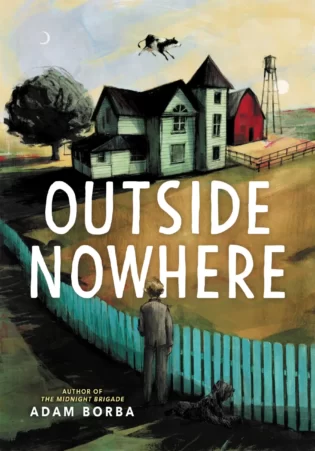 Outside Nowhere
by
Adam Borba
Published on
October 18, 2022
by
Hachette UK
Pages:
272
Purchase Links*:







Genres:
Juvenile Fiction / Lifestyles / City & Town Life
,
Juvenile Fiction / Social Themes / Adolescence & Coming of Age
,
Juvenile Fiction / Social Themes / Friendship

From the author of The Midnight Brigade, this heartwarming and humorous middle grade novel follows one boy's summer adventure at a peculiar farm in the middle of nowhere.
Charming and funny, Parker Kelbrook can wriggle out of anything he doesn't want to do. So when he's forced to take a job at the local pool—a threat to his beach-filled summer plans—he comes up with the perfect prank to get himself fired.
Once Parker's father catches wind of his latest scheme, he decides enough is enough, and Parker is sent halfway across the country to work on a farm alongside five other kids who find him less than charming. As Parker learns to roll up his sleeves and keep his head down, strange things start happening. And after he awakens one morning to find a seventeen-hundred-pound dairy cow on the roof of a barn, he suspects that something magical and mysterious is growing in the farm's fields.
Adam Borba presents a whimsical new story about a boy's discovery that mistakes and miracles can have serious consequences.
October 10th
Stuck in Fiction – Interview
The Book Dutchesses – Promotional Post
October 11th
TheGeekishBrunette – Promotional Post
Book Notes by Athina – Promotional Post
October 12th
Confessions of a YA Reader – Promotional Post
Boys' Mom Reads! – Review
October 13th
Kait Plus Books – Interview
October 14th
Writing Rose Reads – Promotional Post
PopTheButterfly Reads – Review
October 15th
The Bookish Coven – Promotional Post
Justice For Readers – Promotional Post
October 16th
Nine Bookish Lives – Interview
Emmamustread – Review & Favorite Quotes
October 10th
tbrandbeyond – Promotional Post
dreaminginpages – Review
October 11th
jacleomik33 – Review
thegeekishbrunette – Blogger's Choice
booknotes_athina – Blogger's Choice
October 12th
get.outside.and.read – Review & Favorite Quotes
justa.gal.andherbooks – Review
October 13th
gryffindorbookishnerd – Review
October 14th
mulberryreads – Review
writingrosereads – Blogger's Choice
popthebutterfly – Blogger's Choice
October 15th
kmo.reads – Review
hodophile_z – Review
October 16th
ninebookishlives – Blogger's Choice
emmamustread – Blogger's Choice