Happy Friday Coven! We are delighted to take part in the blog tour for "Maybe an Artist, a Graphic Memoir" by Elizabeth Montague.
Maybe An Artist, A Graphic Memoir
by
Liz Montague
Published on
October 18, 2022
by
Random House Children's Books
provided by
Netgalley
,
TBR&Beyond
Pages:
176
Purchase Links*:







Genres:
Young Adult Nonfiction / Art / Cartooning
,
Young Adult Nonfiction / Biography & Autobiography / Art
,
Young Adult Nonfiction / Comics & Graphic Novels / Social Topics

A heartfelt and funny graphic novel memoir from one of the first Black female cartoonists to be published in the New Yorker, when she was just 22 years old.
When Liz Montague was a senior in college, she wrote to the New Yorker, asking them why they didn't publish more inclusive comics. The New Yorker wrote back asking if she could recommend any. She responded: yes, me.
Those initial cartoons in the New Yorker led to this memoir of Liz's youth, from the age of five through college--how she navigated life in her predominantly white New Jersey town, overcame severe dyslexia through art, and found the confidence to pursue her passion. Funny and poignant, Liz captures the age-old adolescent questions of "who am I?" and "what do I want to be?" with pitch-perfect clarity and insight.
This brilliant, laugh-out-loud graphic memoir offers a fresh perspective on life and social issues and proves that you don't need to be a dead white man to find success in art.
❧ Bookish Coven Rating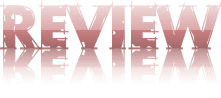 This was a highly relatable and very charming memoir to read!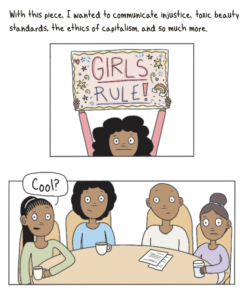 Elizabeth begins her life story as all stories do: from her childhood. I saw myself in her younger self too, trying to find what her passion was. Journalism was the first one for her before settling on "Maybe an Artist". The comic panels are charming and the art is lovely!! 
If you enjoy comics but memoirs isn't your thing, please give this one a chance as it's a lovely short read!!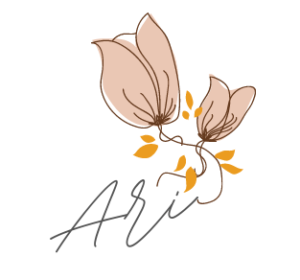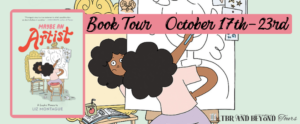 October 17th
The Book Dutchesses – Promotional Post
Thought Scribbler's Blog – Review
October 18th
Stuck in Fiction – Promotional Post
Gazerofbooks – Review
October 19th
Cocoa With Books – Review
Melancholic Blithe – Review & Mood Board
October 20th
Confessions of a YA Reader – Promotional Post
RiverMoose-Reads – Review & Favorite Quotes
Jen Jen Reviews – Review
October 21st
The Bookish Coven – Review
See Sadie Read – Review
October 22nd
Nine Bookish Lives – Promotional Post
Midsummer Night's Read – Review
October 23rd
Epic Book Society – Promotional Post
PopTheButterfly Reads – Review
October 17th
morningstarlitpages – Review & Favorite Quotes
stitchsaddiction – Promotional Post
lunatonks_777 – Blogger's Choice
October 18th
tbrandbeyond – Promotional Post
justa.gal.andherbooks – Review
gazerofbooks – Blogger's Choice
October 19th
mode2geek – 15 Reactions While Reading Maybe an Artist
cocoawithbooks – Blogger's Choice
October 20th
luna_reads – Journal Spread
whisperingprose – Review
jenjenreviews – Blogger's Choice
October 21st
writingrosereads – Promotional Post
see_sadie_read – Blogger's Choice
October 22nd
nikki_bookbinges – Review
acciob00kworms – Review
ninebookishlives – Blogger's Choice
October 23rd
hoardingbooks.herding.cats – Review & Favorite Quotes
betweenhogwartsandvelaris – Review & Favorite Quotes
popthebutterfly – Blogger's Choice