Greetings Bookish Coven!! Today we are reviewing "The Dragon's Promise" by Elizabeth Lim, the conclusion to her Six Crimson Cranes duology. But first, let us discuss the first installment "Six Crimson Cranes".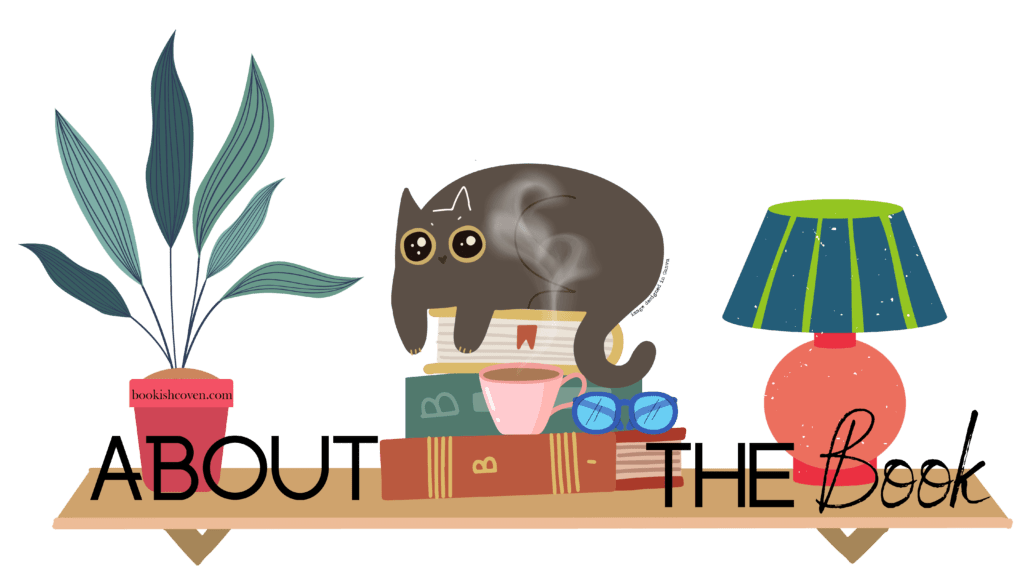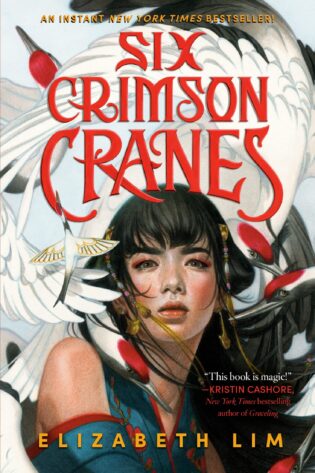 Six Crimson Cranes
by
Elizabeth Lim
Series:
Six Crimson Cranes #1
Published on
July 8, 2021
by
Hachette UK
Pages:
464
Genres:
Fiction / Fantasy / Action & Adventure
,
Fiction / Fantasy / General
,
Juvenile Fiction / Fantasy & Magic
,
Young Adult Fiction / Fairy Tales & Folklore / Adaptations
,
Young Adult Fiction / Fantasy / General

A princess in exile. Six enchanted cranes. An unspeakable curse.
A beautiful and immersive YA fantasy retelling of the Grimm brothers' The Six Swans fairytale, set in an East-Asian inspired world, by the author of Spin the Dawn.
'A dazzling fairy tale full of breathtaking storytelling' Stephanie Garber, Sunday Times bestselling author of Caraval
Shiori'anma, the only princess of Kiata, has a secret. Forbidden magic runs in her veins. And on the morning of her betrothal ceremony, Shiori loses control. At first, her mistake seems like a stroke of luck, forestalling the wedding she never wanted, but it also catches the attention of Raikama, her stepmother.
A sorceress in her own right, Raikama banishes the young princess, turning her brothers into cranes, and warning Shiori that she must speak of it to no one: for with every word that escapes her lips, one of her brothers will die.
Penniless, voiceless, and alone, Shiori searches for her brothers, and uncovers a dark conspiracy to seize the throne. Only Shiori can set the kingdom to rights, but to do so she must place her trust in a paper bird, a mercurial dragon, and the very boy she fought so hard not to marry. And she must embrace the magic she's been taught all her life to contain - no matter what it costs.
❧ Bookish Coven Rating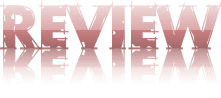 Find the light that makes your lantern shine, […] Hold on to it, even when the dark surrounds you. Not even the strongest wind will blow out the flame."
I really love reading any fairy tale really and "Six Crimson Cranes" was such an amazing and whimsical one. It had the princess, the curse, the villain, the loving family and the adoring prince. 
We were seven, and seven was a number of strength."
The story
Shiori is a princess, one that has to marry to strengthen the alliance between her kingdom and the North. Of course she doesn't want to and on the day of her betrothal she falls into a lake (an accident as I'm sure you can imagine), where she gets saved by a dragon, named Seryu. Dragons in Lim's world can have a human face and they have an hierarchy and everything. So Seryu is a prince and his grandfather rules the dragon kingdom. He teaches Shiori magic and they bond over their love for food. I thought he was sweet but alas, he isn't the main love interest. Nor is romance the main storyline. You see, Shiori has a stepmother and per fairytale standards she must be evil. While she does curse Shiori, to wear a bowl and her head and never speak and her brothers, to be turned into cranes, there is more to her than they know.
The book is basically the family's quest to break that curse. 
The Characters
I adored Shiori. It's been a couple of days since I finished the book and I still think about her. Shiori and Kiki , her enchanted bird, were lovable. 
You're yourself, Shiori. The knot that holds us together."
The romance between her and Takkan reminded me a lot of "Thorn". It evolved naturally and it wasn't forced. I enjoyed all of their scenes together and I'm sure that we will have lots of them on the next book too!! Her stepmother gets an honorable mention in this section, as I like grey and mysterious characters and for the beginning of the book, she did fit the bill.
My only complain is that the rest of Shiori's family wasn't very fleshed out. We see very little of the father and apart from one her brothers, I didn't feel like I knew them a lot. I could tell that they loved each other very much though.
Food feeds the belly, thoughts feed the mind, but love is what feeds the heart."
The cover
Both the UK and the US covers are beautiful!!
The pacing 
"Six Crimson Cranes" was a fast read, with gorgeous prose and a story that flowed really easily. If you like fairy tales you should definitely check it out!
Closing thoughts
I would tell you stories from dawn to dusk if it meant filling your eyes with happiness."
Finally per the author's acknowledgement page, Shiori's story did bring some light in my life and it has found a place in my heart! Now…
-There will be marked spoilers in the next section –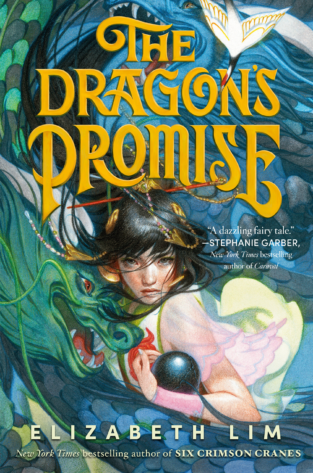 The Dragon's Promise
by
Elizabeth Lim
Series:
Six Crimson Cranes #2
Published on
August 30, 2022
by
Random House Children's Books
Pages:
496
Genres:
Young Adult Fiction / Fairy Tales & Folklore / General
,
Young Adult Fiction / Fantasy / Epic
,
Young Adult Fiction / People & Places / Asia

From the New York Times Bestselling author of Six Crimson Cranes comes the thrilling next adventure! A journey to the kingdom of dragons, a star-crossed love, and a cursed pearl with the power to mend the world or break it... Fans of Shadow and Bone will devour this soaring fantasy.
Princess Shiori made a deathbed promise to return the dragon's pearl to its rightful owner, but keeping that promise is more dangerous than she ever imagined.
She must journey to the kingdom of dragons, navigate political intrigue among humans and dragons alike, fend off thieves who covet the pearl for themselves and will go to any lengths to get it, all while cultivating the appearance of a perfect princess to dissuade those who would see her burned at the stake for the magic that runs in her blood.
The pearl itself is no ordinary cargo; it thrums with malevolent power, jumping to Shiori's aid one minute, and betraying her the next—threatening to shatter her family and sever the thread of fate that binds her to her true love. It will take every ounce of strength Shiori can muster to defend the life and the love she's fought so hard to win.
❧ Bookish Coven Rating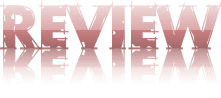 A promise is not a kiss in the wind, to be thrown around without care, […] It is a piece of yourself that is given away and will not return until your pledge is fulfilled."
The Story
"The Dragon's Promise" picks up the story right where we were left off with the first book. We visit the dragon kingdom which was fun, but for me the burning question after book one was about Shiori's stepmother; what was her background really? And I was not disappointed.
She could see the light in others, whereas they saw only the darkness in her.
The Serpent Queen, Shiori's stepmother, was as complex as I wanted her to be and I really appreciated the way Elizabeth Lim layered her story. Bit by bit, starting with "Six Crimson Cranes", we try to piece together the life story of that important character, that even though View Spoiler »she dies at the end of book one « Hide Spoiler, she has such a big influence on Shiori's life.
The Cover
No notes. Perfect, as was the case with the first book too.
The Pacing
This book covered a lot of ground, as we had multiple locations to visit. Still, the story moved nicely and I wasn't bored at any point. Well, a bit in the beginning to be honest, as to me Shiori and Seryu never made sense as a couple.
The Characters
Once again I have to mention that I loved, loved Shiori. She was so brave in this book and even though her arc was less linear per se, I liked her growth. Her love with Takkan was endearing and he reminded so much of Lazlo that he is now my second favorite male character in ya literature (I should make a list someday!). View Spoiler »I think it's the bookish connection. Lazlo is still my fav but Takkan wrote Shiori stories and whenever he declared his love for her, I was melting in the cuteness of them! « Hide Spoiler
Now, I've seen people mention a love triangle and let me tell you that imo it was never a competition; Takkan was the one from the previous book. 
I am the end of your string," Takkan reminded me. "No matter how long it stretches, so long as you want me, I will never let go."
The titbit about how and why Takkan was the one who was chosen to be Shiori's intended gave a lot of insight on both him and the one who chose him!
Closing thoughts
While I preferred "Six Crimson Cranes" story over the one in "Dragon's Promise", I still enjoyed this book and I think it's a lovely fairytale that will enchant you from the first few pages.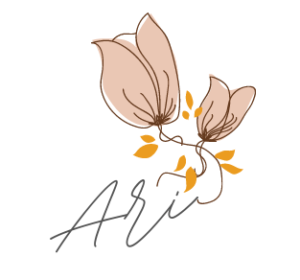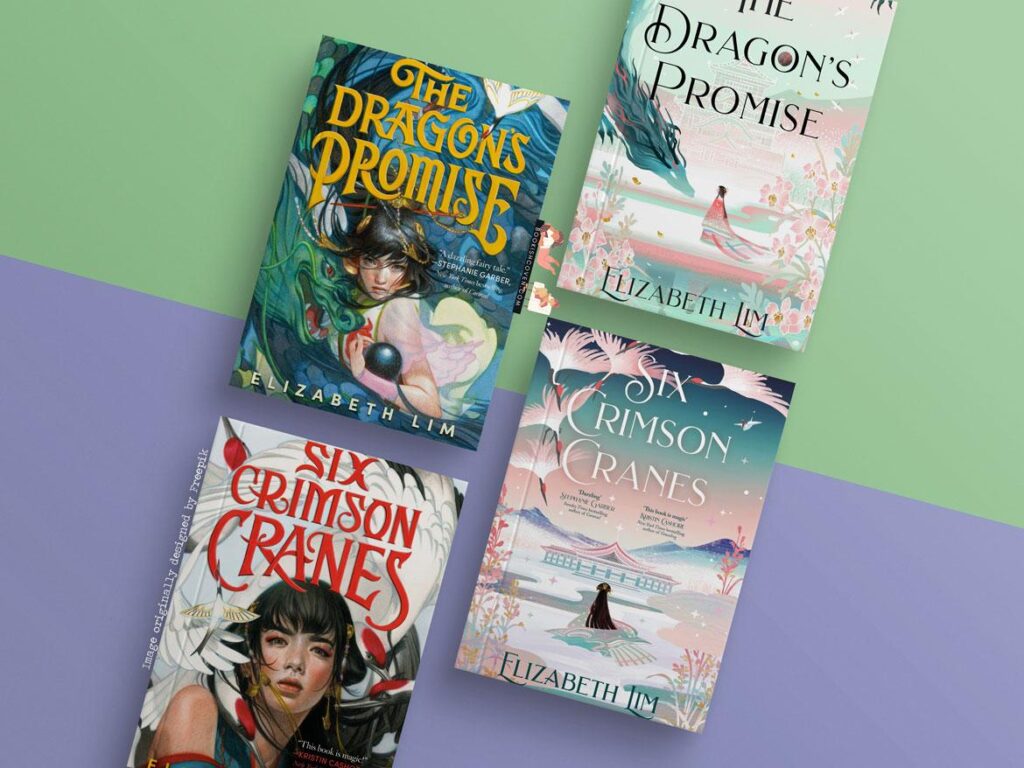 Don't forget to check the rest of the blogs featuring the book!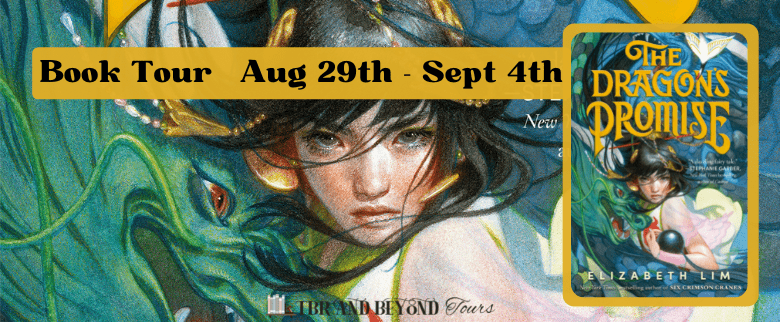 August 29th
The Litt Librairan – Promotional Post
Just Geeking By – Review
The Bookwyrm's Den – Review
Justice For Readers – Top 5 Reasons to Read The Dragon's Promise
Eye-Rolling Demigod's Book Blog – Review & Favorite Quotes
August 30th
Modest Hiccup – Review
B for Bookslut – Review
& She Reads – Promotional Post
The Ink Slinger – Top 5 Reasons to Read The Dragon's Promise & Mood Board
Mallory Books – Journal Spread
August 31st
The Book Dutchesses – Promotional Post
Metaphors and Miscellanea – Review & Favorite Quotes
Inkhaven – Review
pluvioreads – Review & Playlist
Book Notes by Athina – Review
September 1st
Nine Bookish Lives – Promotional Post
dinipandareads – Review & Favorite Quotes
Bookwyrming Thoughts – Review
Mochas and Madness – Review
September 2nd
The Clever Reader – Top 5 Reasons to Read The Dragon's Promise
bookloversbookreviews – Promotional Post
The Bookish Coven – Review & Favorite Quotes
Betwixt The Sheets – Promotional Post
Books Over Everything – Review
September 3rd
Stuck in Fiction – Promotional Post
This Soul's Devouring Words – Review
Littlefoot Reader – Review
One More Chapter – Review
itsKoo reviews – Review & Favorite Quotes
September 4th
Lemmi Bookmark That! – Review
The Nerdy Nook – Review & Favorite Quotes
Kait Plus Books – Promotional Post
The Girl Who Reads – Review
Lost Girl in Bookland – Review
August 29th
writingrosereads – Promotional Post
lisashelves – Top 5 Reasons to Read The Dragon's Promise & Favorite Quotes
books_and_dice – Review & Favorite Quotes
thelittlibrarian – Blogger's Choice
justiceforreaders – Blogger's Choice
eyerollingdemigod – Blogger's Choice
August 30th
read.cells – Review & Playlist
hturningpages – Review & Favorite Quotes
modesthiccup – Blogger's Choice
and_shereads – Blogger's Choice
aamnaiswriting – Blogger's Choice
bookdreamr – Blogger's Choice
August 31st
thebookwebb – Promotional Post
what_jenny_did_next – Review
GryffindorBookishNerd – Review & Top 5 Reasons to Read The Dragon's Promise
metaphorsandmisc – Blogger's Choice
pluvioreads – Blogger's Choice
booknotes_athina – Blogger's Choice
September 1st
wraithreads – Review & Mood Board
following.fantasies – Top 5 Reasons to Read The Dragon's Promise
iya.reads – Review
ninebookishlives – Blogger's Choice
dinipandareads – Blogger's Choice
mochas_and_madness15 – Blogger's Choice
September 2nd
tbrandbeyond – Promotional Post
the_ya_assassin – Review & Favorite Quotes
tinybooknest – Mood Board
bookloversbookreviews – Blogger's Choice
theink.slinger – Blogger's Choice
books_over_everything – Blogger's Choice
September 3rd
belle.bookcorner – Review & Favorite Quotes
hollysutton.books – Review & Playlist
anjalisdevouringwords – Blogger's Choice
littlefootreader – Blogger's Choice
_leahreads – Blogger's Choice
itskooreviews – Blogger's Choice
September 4th
dhirviepages – Review & Favorite Quotes
libraryofretellingsandstars – Review
booking.with.janelle – Promotional Post
lemmibookmarkthat – Blogger's Choice
bookstagramofmine – Blogger's Choice
lost_girl_in_bookland – Blogger's Choice