Hello Coven! Today we bring you a Promo Post about This Rebel Heart by Katherine Locke.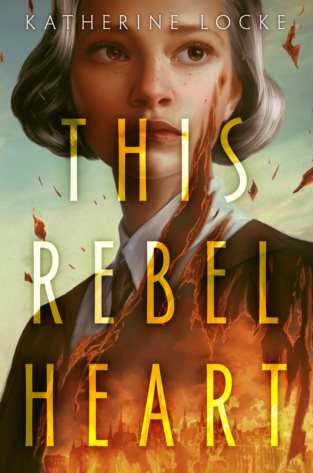 This Rebel Heart
by
Katherine Locke
Published on
April 5, 2022
by
Random House Children's Books
provided by
TBR&Beyond
Pages:
448
Purchase Links*:






Genres:
Young Adult Fiction / Historical / Europe
,
Young Adult Fiction / LGBTQ
,
Young Adult Fiction / Religious / Jewish

A tale set amid the 1956 Hungarian revolution in post-WWII Communist Budapest.
In the middle of Budapest, there is a river. Csilla knows the river is magic. During WWII, the river kept her family safe when they needed it most–safe from the Holocaust. But that was before the Communists seized power. Before her parents were murdered by the Soviet police. Before Csilla knew things about her father's legacy that she wishes she could forget.
Now Csilla keeps her head down, planning her escape from this country that has never loved her the way she loves it. But her carefully laid plans fall to pieces when her parents are unexpectedly, publicly exonerated. As the protests in other countries spur talk of a larger revolution in Hungary, Csilla must decide if she believes in the promise and magic of her deeply flawed country enough to risk her life to help save it, or if she should let it burn to the ground.
.
April 4th
Nine Bookish Lives – Promotional Post
dinipandareads – Review & Favorite Quotes
Inking & Thinking – Top 5 Reasons to Read This Rebel Heart, Playlist & Favorite Quotes
Book Notes by Athina – Promotional Post
April 5th
The Bookish Coven – Promotional Post
Shelvesofstarlight – Review
& She Reads Co. – Promotional Post & Tik Tok
April 6th
Stuck in Fiction – Promotional Post
Brinns Books – Review & Favorite Quotes
Confessions of a YA Reader – Promotional Post
The Clever Reader – Review
April 7th
Gazerofbooks – Review & Top 5 Reasons to Read This Rebel Heart
Midsummer Night's Read – Review
April 8th
Book Lover's Book Reviews – Promotional Post & Tik Tok
Kappa Reads Books – Review & Favorite Quotes
Paiges of Books – 15 Reactions While Reading This Rebel Heart
One More Chapter – Review
April 9th
The Book Dutchesses – Promotional Post
Debjani's Thoughts – Review
Books With Michelle – Top 5 Reasons to Read This Rebel Heart & Mood Board
April 10th
Sheaf & Ink – Promotional Post
Rae's Reading Lounge – Review & Favorite Quotes
Kait Plus Books – Promotional Post & Mood Board
PopTheButterfly Reads – Review
Bohemian Bibliophile – Review & Favorite Quotes
April 4th
writingrosereads – Promotional Post
ninebookishlives – Blogger's Choice
booknotes_athina – Blogger's Choice
April 5th
tbrandbeyond – Promotional Post
and_shereads – Blogger's Choice
April 6th
feliciareads11 – Blogger's Choice
brinnsbooks – Blogger's Choice
thecleverreader – Blogger's Choice
April 7th
jacleomik33 – Review
gazerofbooks – Blogger's Choice
April 8th
bibliovina – Review
bookloversbookreviews – Blogger's Choice
theaterbookgirl – Blogger's Choice
leah.reads.writes.drinks – Blogger's Choice
April 9th
bookswithmichellee – Blogger's Choice
April 10th
theenchantedshelf – Review & Favorite Quotes
sheafandink – Blogger's Choice
popthebutterfly – Blogger's Choice