Hello Coven! Katrina Leno has been on my radar since I read the blurb for "Horrid"! Unfortunately I haven't been able to read it yet. Today we are the stop for the tour of her newly released book Sometime in Summer.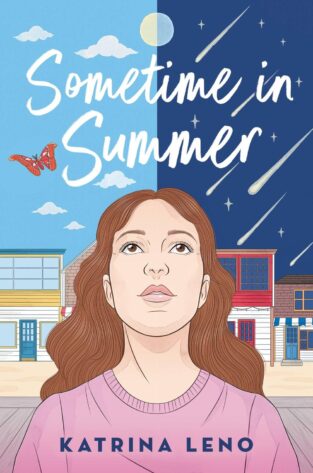 Sometime in Summer
by
Katrina Leno
Published on
June 28, 2022
Pages:
288
Purchase Links*:






Genres:
Young Adult Fiction / Books & Libraries
,
Young Adult Fiction / Family / Marriage & Divorce
,
Young Adult Fiction / Family / Parents
,
Young Adult Fiction / Romance / General
,
Young Adult Fiction / Social Themes / Friendship

From critically acclaimed author Katrina Leno comes a tender love letter to books and summertime, with a touch of magic.
Anna Lucia Bell believes in luck: bad luck. Bad luck made her best friend stop talking to her. Bad luck caused her parents' divorce. Bad luck is forcing her mother, Miriam, to sell the family's beloved bookstore. And it is definitely bad luck that Anna seems to be the only person in the world Miriam is unable to recommend a life-changing book.
When Anna finds out that she and her mom are spending two months in a New England seaside town called Rockport, she expects a summer plagued with bad luck too. But Rockport has surprises in store for Anna, including a comet making its first appearance in over twenty years and two new—but familiar—friends.
In what will prove to be the most important summer of her life so far, Anna learns about love, herself, and the magic that an ordinary summer can bring.
*This post contains affiliate links you can use to purchase the book. If you buy the book using that link, I will receive a small commission from the sale.
June 27th
What Irin Reads – Review
Midsummer Night'd Read – Review
Melancholic Blithe – Promotional Post
Pagies of Novels – Review
June 28th
Nine Bookish Lives – Promotional Post
Wishful Endings – Review
Phannie the ginger bookworm – Review & Playlist
Purposely Unperfect – Playlist &, Rockport Photos of places from the book
June 29th
Brinn's Books – Review & Favorite Quotes
Uneek Book Lover – Review
The Bookish Coven – Promotional Post
Peek-a-book – Review & Favorite Quotes
June 30th
Sophie Reads YA – Review
Kait Plus Books – Journal Spread
The Book Dutchesses – Promotional Post
Jen Jen Reviews – Review
July 1st
Confessions of a YA Reader – Promotional Post
The carly library – Review
Justice For Readers – Promotional Post
Books with Michelle – Top 5 Reasons to Read Sometime in Summer & Mood Board
July 2nd
Books and Babble – Review
Abby's Coven – Review
bookloversbookreviews – Promotional Post & Tik Tok
Sheaf & Ink – Promotional Post
July 3rd
Stuck in Fiction – Promotional Post
The Nutty Bookworm Reads Alot – Review
Whispering Stories – Review
Rampant Reading Reviews – Promotional Post
June 27th
writingrosereads – Promotional Post
whatirinreads – Blogger's Choice
paiges_of_novels – Blogger's Choice
June 28th
hoardingbooks.herdingcats – Review & Favorite Quotes
ninebookishlives – Blogger's Choice
wishfulendings – Blogger's Choice
purposelyunperfect – Blogger's Choice
June 29th
bookandsnapshots – Review
booksaremagictoo – Review
brinnsbooks – Blogger's Choice
peekabook_today – Blogger's Choice
June 30th
tbrandbeyond – Promotional Post
wraithreads – Review, Tik Tok
pcreads – Review & Top 5 Reasons to Read Sometime in Summer
jenjenrevies – Blogger's Choice
July 1st
justa.gal.andherbooks – Review
thecarlylibrary – Blogger's Choice
justiceforreaders – Blogger's Choice
bookswithmichellee – Blogger's Choice
July 2nd
musfira._ – Journal Spread
abbyreadsandreviews – Blogger's Choice
bookloversbookreviews – Blogger's Choice
sheafandink – Blogger's Choice
July 3rd
booksatlunch – Top 5 Reasons to Read Sometime in Summer
feliciareads11 – Blogger's Choice
rampant_reading – Blogger's Choice