Hi Coven! Today it's our stop for the Passport by Sophia Glock tour! Do check out the tour schedule below if you want to read more about this young adult graphic novel!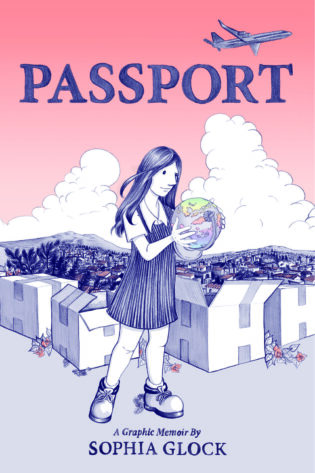 Passport
by
Sophia Glock
Published on
November 16, 2021
provided by
TBR&Beyond
Pages:
320
Purchase Links*:



Genres:
Graphic Novel
,
Young Adult

An unforgettable graphic memoir by debut talent Sophia Glock reveals her discovery as a teenager that her parents are agents working for the CIA
Young Sophia has lived in so many different countries, she can barely keep count. Stationed now with her family in Central America because of her parents' work, Sophia feels displaced as an American living abroad, when she has hardly spent any of her life in America.
Everything changes when she reads a letter she was never meant to see and uncovers her parents' secret. They are not who they say they are. They are working for the CIA. As Sophia tries to make sense of this news, and the web of lies surrounding her, she begins to question everything. The impact that this has on Sophia's emerging sense of self and understanding of the world makes for a page-turning exploration of lies and double lives.
In the hands of this extraordinary graphic storyteller, this astonishing true story bursts to life.
November 15th
HerBookishObsession – Promotional Post
A Bronx Latina Reads – Review
Unconventional Quirky Bibliophile – Review
November 16th
Kait Plus Books – Interview & Mood Board
Book Me Some Time – Review
November 17th
Sometimes Leelynn Reads – Review & Favorite
The Reader's Game – Review & Favorite Quotes
Nine Bookish Lives – Promotional Post
November 18th
dinipandareads – Review
Stuck in Fiction – Promotional Post
November 19th
Confessions of a YA Reader – Review
Diary of a Bookgirl – Review
The Book Dutchesses – Promotional Post
November 20th
Melancholic Blithe – Interview & Mood Board
The Someday Librarian – Review
November 21st
The Nutty Bookworm Reads Alot – Review
The Bookish Coven – Promotional Post
Popthebutterfly Reads – Review
November 15th
thebookedbooks – Review
quirkybibliphile – Blogger's Choice
November 16th
tbrandbeyond – Promotional Post
bookmesometime – Blogger's Choice
November 17th
thereadersgamebrooke – Blogger's Choice
ninebookishlives – Blogger's Choice
November 18th
alibraryofpages – Interview
feliciareads11 – Blogger's Choice
November 19th
luna_reads_ – Journal Spread
diaryofsulgana – Blogger's Choice
thebookdutchesses – Blogger's Choice
November 20th
iambibliomane – Promotional Post
thesomedaylibrarian – Blogger's Choice
November 21st
lazyfeline89 – Review
popthebutterfly – Blogger's Choice